Full Time RVing Wardrobe, Pack These Clothes For RV Living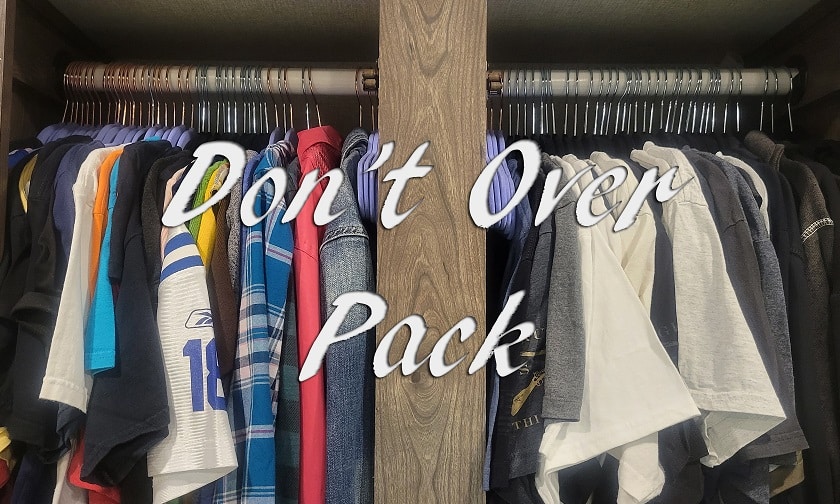 Trying to figure out a Full Time RVing Wardrobe is no easy task. We definitely over packed our RV when we first moved into it, so we are going to try to help you narrow things down. Honestly you can probably get rid of more clothes than you would think.
What You Don't Need
Guys, right off the bat you can go ahead and get rid of most of your dress clothes. In fact, I only have 2 suits in my closet. One regular suit for weddings and formal occasions, and my dress uniform. My wife got rid of her 'boring' 9 to 5 outfits, and kept a handful of 'hey look at me' combinations. Lets face it, no one cares if I wear the same suit to everything, but for my wife, every occasion needs the Right top matched with the Right shoes.
Pants
We both have whittled our RVing Wardrobe down to about 4 pairs of everyday paints each. Most weeks neither of us has gone through all of them before laundry day is upon us again. The fact of the mater is, you just aren't going to be getting as dirty as you used too. Think about it, you aren't mowing the lawn, or weeding the garden, shoveling mulch into the flower beds anymore.
Four pairs of pants is 8 days of pants most of the time. Sure you'll have that one day that you get muddy or sweaty while hiking, but more often than not, you're going to end up sitting around the campground making friends and talking to neighbors.
Shirts
We each have 10ish day to day shirts that we keep in our closet. No really. Go look at how many T-shirts you have in your closet right now that you haven't pulled out in over a year, I'll wait…
See what I mean? We all do it, reach in and grab that comfortable shirt that fits just the way you like instead of the shirts we haven't worn in a while. So if you are never going to wear it anyway, why add the weight to your camper and have to by even more hangers? Speaking of hangers, the ones below are the ones we use. They actually fit in the RV Closet AND your clothes will stay on them!
RVing Wardrobe Tip
Be sure NOT to make the same mistake I did when getting rid of your extra clothes. After 20 years of working outdoors year round, I decided I was never going to be cold again. Threw away all of my long sleeve T's and all but 1 of my old work sweatshirts.
Not in case I got cold, no, incase I needed to work on the truck, I wouldn't ruin one of my T-shirts.
Now we are each toting around 3 hoodies, and 2 long sleeve T-shirts. Fortunately my wife is smarter than I am, and kept 2 winter jackets for each of us. While we were in Montana this past September, the temperature was 70's on Tuesday, and 35 on Wednesday.
Shorts
Just the same as our pants, we got rid of a lot of our pairs of shorts and kept 5 comfortable pairs. We both have 2 pair of jean shorts, and 3 pair of golf shorts since that's the new hobby we have decided to suck at. How bad are we? See for yourself.
Bathing Suits
Don't forget to pack these. And really you may want to have 4 or 5 to chose from. That may all depend on the type of Full Time RVer you are going to be. When we first moved in to our camper, we were stationary RV Living and still going to work every day. We didn't need more than one bathing suit each for a saturday.
Once we actually hit the road, and started following summer temperatures around the country, the need for a fresh bathing suit every day increased. We were doing more lounging by the pool, going kayaking, swimming at the lake etc.
Shoes
Again, my wife packed more than I did. I can get away with one pair of sneakers, a pair of flip flops, and my moccasins for around the house. Loretta has the same 3 basics, but fuzzy slippers instead of moccasins. She also has kept her BEST shoes, that go with the most outfits, to give her the most possible combinations if we need to go out for a night on the town.
Socks & Underwear
We each have 2 weeks worth of under garments, not including the Special Occasion stuff. Yeah, you definitely want to keep that, don't throw away the Victoria Secret stuff, you get bored on rainy days and that stuff keeps it way more interesting.
If you are wearing the pants a second day because you didn't really do anything yesterday, you should probably still change out your undergarments daily. I forget why, but I remember hearing in my youth that you should always have on fresh underwear.