RV CLOSETS! Can we talk about Closets?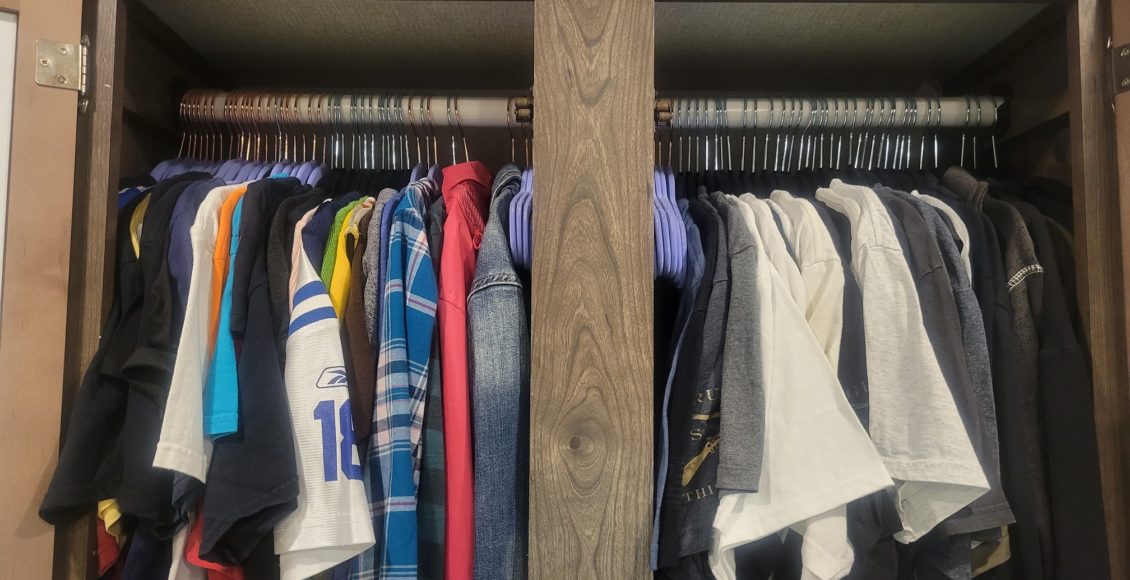 Making your RV closet usable
I love my Keystone Montana 5th wheel, I really do. Overall, we have had very few complaints. But for the love of ANYTHING Holy, Why In The Hell Can't I Fit A Standard Hanger In The Closets?! This problem is not just a Keystone issue. We have heard several friends with the same complaint. If I had to guess, the genius engineer who designed this has never had to put any decent amount of clothes in their camper… But whoever it was, and whatever drove the decision, it doesn't matter – because it is just OUR issue to deal with now.
So how do we deal with it? What are our options? If we use a standard hanger, even the ones that are specially designed for in the camper that grip the bar, they don't sit straight. They sit on such an angle that it renders at least half of the closet space useless. If you angle the hanger up, your clothes fall of the hanger. If we just fold all of our clothes and stack them up, guess what… they fall over!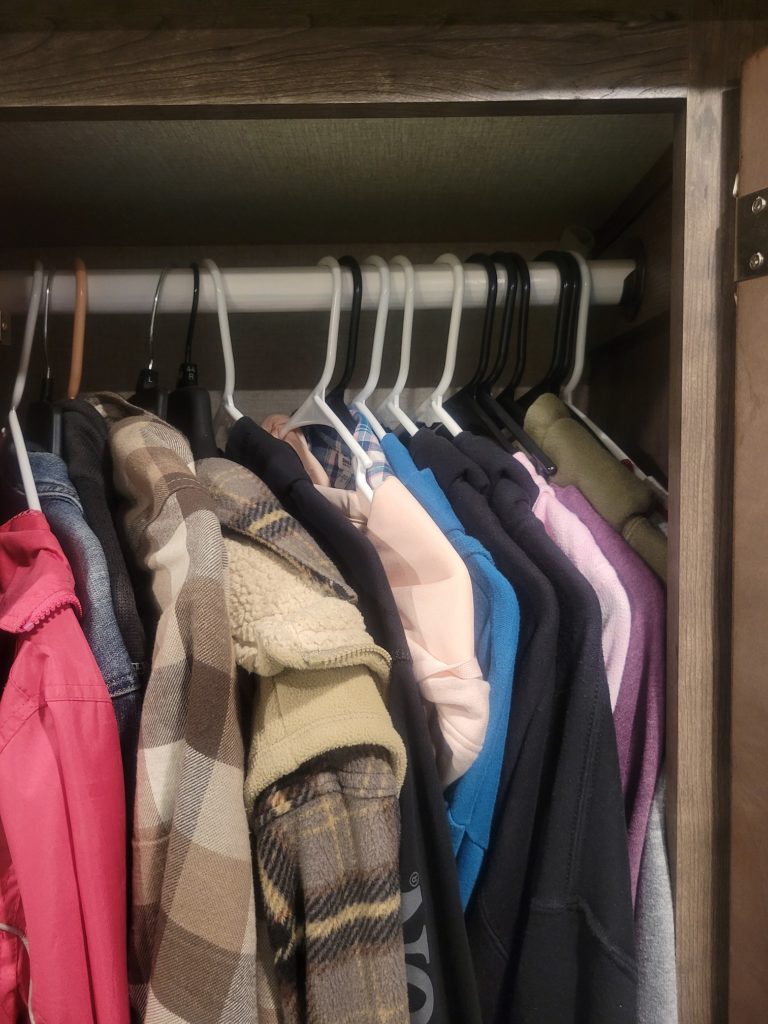 I tried using children's hangers. That works for pants and skirts. But it still didn't work for any of our shirts. The width of the hanger is too close to the size of the neck hole to hold the shirts on. Heaven forbid you have a V-Neck shirt. Plus they are usually made of the same plastic as a regular hanger and because they are so close the the neck hole size, they just slide off with the smallest amount of movement within the closet – even just sliding the clothes back and forth to find the shirt you're looking for.
Then I found them! Junior sized hangers. A standard hanger is 16 inches. The children's hangers are 11 inches. The junior hangers are 14. The depth of the closet – 15 inches! ZOBER Premium Non-Slip Junior Hangers! I found them on Amazon here.
I'll admit, I was a little nervous when I first found them. I wasn't sure if they would work or not, so I only bought one box. 50 hangers in the box. I don't think I was ever so happy to see hangers arrive. I ran to the bedroom while ripping open the box and yanked a whole closet full of clothes out and threw them on the bed. The hangers are velvet, so it does take a minute to get the clothes onto the hanger. They don't slide on as quickly as they would with a plastic or metal hanger, but THEY WORK!!
The hangers are wide enough to suitably hold an adult top. They don't quite go shoulder to shoulder, but I knew they weren't going to when I ordered them. As I said, the hangers are 2 inches smaller than a standard hanger. But with the velvet texture we have not had a single issue with the clothes falling off. It doesn't matter what material we are hanging.
I waited a little bit before writing this article because I wanted to give them an honest assessment after we had done some traveling. How were they going to do while the 5th wheel was bouncing down the highway? We took a trip out to South Dakota from New Jersey a few weeks ago. A 1700 mile drive seems like a good trial. Well – they did EXCELLENT!! Even the hangers that had fallen off of the bar and were now laying in the bottom of the closet were still on the hangers!
Now if we weren't Full Timer's 50 hangers probably would have sufficed, but we are Full Timers, so I needed to order 3 more boxes. Future article about the truth on downsizing….
If I had to give one complaint about our new hangers it would be that they don't have the special camper design that grips the hang bar. Overall, we are both incredibly happy with the purchase. We both feel better when things are organized efficiently. Living in a 5th wheel has had several challenges when attempting to organize our space practically. So the discovery of these hangers has made the simple task of getting dressed in the morning much more enjoyable.