How Did Your Adventures Start? Here's Our Story
Niagara at Night
Destination based road trips are fantastic. You pick a place, you get in the car, you head out, and enjoy your destination. Right? That's the way it is supposed to work? I hope. Maybe… or not. How did your adventures start? Here's our story…
Our first road trip was when I coined the phrase, 'It's an Adventure." A phrase Doug has hated at times, with the deepest passion one could muster. But also, one that has become our mission statement every time we get in the car to go almost anywhere.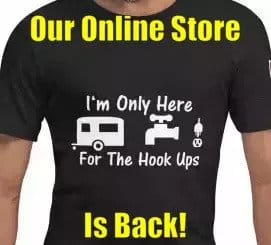 Our first adventure was just Doug and I; Jayden wasn't born yet, or even a thought at the time.  We had only recently started dating.  It was a Saturday.  Doug was working.  I was sitting at home which was nothing more than an in-law suite in Doug's mom and step-dad's back yard.  We had nothing yet.  But I was home planning something…  Or really not 'planning' anything.  I got an idea in my head, and acted.  We were 21 years old, and to say we were "young and dumb" is probably an understatement.  But we still had that carefree, we'll figure it out later, mentality. 
Our Story
Doug walked in the door early afternoon, maybe 2pm or so, and I said, "get in the car!"
"Where are we going?"
"Niagara Falls."
"What?" with a face that was clearly meant to deter me, "Can I shower first?"
"Yeah, but make it fast, we have to go, and you aren't changing my mind."
And that was about the extent of the planning. Like I said, young and dumb.
We got in the car around 3 in the afternoon and began our journey to Niagara Falls. The internet existed, but was not what we see today. Yes, I absolutely could have gone online and done a little bit of research, but that wasn't something we thought about at the time. I brought up Mapquest, printed out directions, closed the computer and stopped thinking about what we were doing. I was familiar with most of the roads we would be taking. We lived in NJ and I had done a semester of school in upstate NY, so I already knew most of the journey. I knew where our last Wawa stop was. (If you don't know Wawa, it's a convenience store primarily in PA and NJ recently expanding to DE, MD, VA, and FL. They make the best coffee on the planet as far as I am concerned. So, knowing where the last one is, was important!) Per Mapquest, we were looking at a 7-hour trip.
We talked, and drove, and laughed and just had fun the whole way there. We stopped at that last Wawa, bought coffee and snacks and got back on the road. It got dark as night set in. But we just kept going. We were on a mission to get to Niagara Falls. Or at least I was, I think Doug's mission was simply to appease me; and he did, he didn't complain once the whole way there.
We got off the interstate, and started making our way through town and closer and closer to the falls.  When you opened the window to the car, you could actually hear it.  We parked the car in a parking lot, and made our way across the grass to the fence along the falls on the American side – this is where the story goes south, fast.  We were standing there pretending like it was such a romantic moment.  We made it!  We drove all 7 of those hours that Mapquest said we would, and we arrived!  The falls were all lit up with colorful lights (which honestly, we could barely see) and we stood there taking in the moment – literally only a moment.
It Goes Like This A LOT
Our story takes a turn sideways here. No sooner than we got there, the lights powered down and we were standing in pitch black.  Our moment was over.  Why you ask?  Because evidently the lights illuminating the falls are shut down at 11pm every night.  Our romantic moment standing next to the falls on our very first road trip had lasted less than 2 minutes and now our story of our first road trip was over.  I guess maybe I should have done just a little bit more planning, oops.
Remember I said how Doug and I had nothing?  Yes, we were 21 years old, we could have walked into a local bar or restaurant and at least made something out of being all the way up in Rochester NY.  However, we had nothing, as in barely enough gas money to get home! 
Back to the car we went and started making our way home.  I KNOW this is the first time I ever said it, and I KNOW that Doug wanted to ring my neck as the words came out of my mouth.  "It's an Adventure!" (or maybe just an epic fail)
It was now 11pm and we were 7 hours from home on a Saturday night. Bagel Breakfast was at 9am Sunday morning at my parent's house, and our presence was not necessarily required, but expected. And we began a long ride home. At some point we pulled over in a rest stop, locked the doors, and took a nap. We woke up, continued our trip home and made it to Bagel Breakfast albeit a bit later than usual.
The truth is this trip did in fact have its merits.  It wasn't a total fail.  This trip renewed our innocent sense of adventure, like children on the playground trying to swing the highest.  We spent a total of 14 hours in a car, just the 2 of us, talking and laughing.  We also learned that when you get in the car to go somewhere, you should probably figure out a little more than directions.  Maybe visiting hours would have helped. 
Or we now know, that when visiting Niagara Falls, that if you would like to see the magnificence of them, you really need to cross the border and view the Horseshoe from their side to see the full beauty.  It didn't stop our story…  And it shouldn't stop yours.  At some point the trip changed from a destination trip to simply getting lost on an Adventure with someone we love.  It wasn't our most grand adventure, and it wasn't the best planned adventure either; but it is one our favorites. 
Get in the car and tap into your adventure seeking side and go – Get Lost! That's our story, jump over to our facebook page and tell us yours!
We did make a second trip to Niagara Falls 15 years later. On the second trip, more planning was involved, and Jayden and his friends came with us. We spent a few nights there and did all of the tourist attractions. We crossed the border and took in the brilliance that we had missed years before.