Shenandoah River Valley, Our First Two Nights Of RV Living
View from our 'back porch' in Shenandoah River State Park
One week in on our journey to follow 70 degrees. After leaving NJ we drove for about 4 1/2 hours. Doug was pretty determined that we needed to at least get out of the Northeast Corridor before we could stop for the night. He even tried to tell me that we needed the leave the state before we could take a potty break… That didn't happen. Honestly, I don't even think we had officially left our home county before I was complaining that I needed to go. But we did in fact make it past Washington DC and across the northern portion of Virginia before we called it a night. So where did we go? The Shenandoah River Valley.
We stayed in the Shenandoah Valley at the Shenandoah River State Park in Bentonville, Virginia. This place was outstanding. First and foremost, it was warmer than the weather we left in NJ. So for 2 people trying to find warmer days, this worked. Literally the day before we left, the both of us were out salting and plowing roads. Here, there was barely any snow on the ground and the temperature was above freezing. I'm not going to say that we were warm yet, or that it was even remotely close to 70 degrees, but it was definitely better. Temps were in the 40's and the sun was shining bright when we started our first official day. Warm enough to take a nice hike down along the river with our dog Lagertha and explore the area.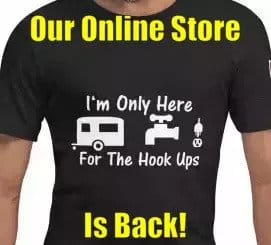 On top of the slightly warmer weather, Virginia has done an excellent job making their state park a destination for the RV community. Our site was large with a beautiful view of the mountains all around. The bathhouse was clean with showers and a laundry room. We had water and electric at the site, with a dump station perfectly located as you exited the camping area, and it was all reasonably priced.
Right now we do our road tripping in a 5th wheel camper. But it wasn't that long ago that all our road trips were done in our daily driver, mostly our Suburban, but sometimes in a small sedan. State Parks are an exceptional option for this type of traveler as many of them offer primitive sites for tent camping, or cabins for the less outdoorsy. The bathhouses are cleaned and maintained by the park rangers regularly. And, like I said before, the price is generally right.
Entrance to the Shenandoah National Park was a 10 minute drive down the road. Here you will find the northern start of Skyline Drive, a beautiful byway that truly allows you the opportunity to travel the ridgeline of the Blue Ridge Mountains. 105 miles of mountain top driving with breathtaking views of the valley's below. The road continues and eventually turns into Virginia's portion of the Blue Ridge Parkway. We did not drive the entire thing, but we did go for about an hour stopping at most of the scenic overlooks along the way.
In a short driving distance there are several caverns (Skyline, Luray, Shenandoah, Grand and Endless – just to name a FEW!) in the area, all offering guided tours for approximately $30 per person. We've done a few cavern tours in the past with Jayden when he was younger. They are certainly enchanting, and sometimes it is hard to comprehend that this landscape is just below our feet. Walking through some of them you can feel like you are on a far away planet. But on this trip through the area we opted to skip them in favor of getting lost down country roads to see what else the area had to offer.
Luray Virginia didn't disappoint. In our pursuit of getting lost we stumbled upon Cooter's Place. Now, I know the television show Dukes of Hazzard went off the air back in 1985, but the show maintains a decent following of fans. Here at Cooter's Place in Luray Virginia you can tour the museum of all things Dukes of Hazzard for free. They have a replica of Cooter's Garage with the unmistakable General Lee and several other of the iconic vehicles from the show. There is a dining area for some eats, and you can peruse an array of merchandise. Their webpage boasts a concert by Cooter himself every Saturday, but it was a Monday when we were there so no backstage passes for us this time.
We woke up Tuesday morning to a balmy 17 degrees.. Which meant it was time for us to move on. We had only spent 2 nights here in the mountains, but it was now way too cold for us, and we have way too many other places to visit and people to see! This is certainly an area that we plan to return to in a warmer month to take advantage of some more hiking and fishing of this prestigious landscape. Keep following our adventure here, and on our YouTube channel to check out some of the cool video footage of where we are and what we're doing!