RV Water Filter System? Not Having One Could Be Deadly!
A good RV Water Filter System is essential to keeping you healthy while on the road!
After traveling the country for the last 2 years, and tasting the water in every state, we can definitively say that a LOT of it sucks.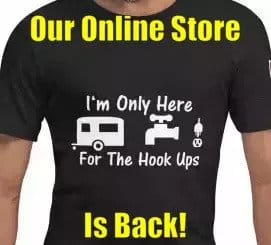 Beyond most of the states having water that tastes like crap, we have found that many of the states have water that is full of crap! Crap like dirt, rust, iron and bacteria that could kill you.
Shortly after we started living the RV Life we made the decision to add a water filter our RV to improve its taste and quality. This was one of the best decisions we ever made!
Which RV Water Filter System Is Best?
When it comes to RV Water Filter Systems, there is a wide variety of choices on the market today. ANY water filter is better than none, but there are clear winners in this game. We are going to go over 3 of them and tell you the advantages of each.
The Most Popular RV Water Filter
This is the most common water filter we have seen, and I'm sure you have too. Its popularity stems from its ease of installation and low cost.
For less than 50 Bucks you can just screw it on to either end of your RV Water Supply Hose. That's all there is to it. This simple inline water filter is usually good for a single season for your average weekend warrior RV'er.
It will filter out some chemicals, heavy metals, and sediments, and will give you much safer drinking water than having no filter at all.
At the end of the season just throw it away, and buy a new one for next season.
Minimum RV Water Filter For Full Time RV's
A two stage RV Water Filter System is the bare minimum I would recommend for a Full Time RVer. This is actually the same system we have in our rig.
This water filter has two replaceable filter cartridges that each do an important job in keeping your water clean. One filter has a .2 micro mesh that will reduce bacteria like E. Coli and cysts like Giardia. Neither of which you want to contract, especially in the middle of nowhere.
The second is a Carbon Filter. The Carbon filter is made from coconut fiber and will reduce the sediments and Volatile Organic Compounds, as well as pesticides and insecticides that are becoming more present in our drinking water.
The two of these filters combined are going to greatly improve the safety of your water as well as the taste and smell. Just don't forget to order a pack of spare filters to swap them out when needed.
The Best RV Water Filter System
The crem de la crem in the RV Water Filter options is the triple filter. This option has the same filters as the last one, but with the added protections of the third filter.
This additional filter is specifically for filtering out heavy metals like iron and rust from your drinking water. And again, don't forget to get spare filters, and you'll need a short second garden hose.
Now I know you may be thinking "That's just one more thing I need to hook up when I get there".
You can pre-plumb the water filter into your RV like we did, so it's still just one hose to hook up when you park your RV.