Make the Stop When You Can
Doug and Loretta goofing in St. Augustine
As we were leaving Charleston, South Carolina my best friend asked a question, and it really brought me pause. "When am I going to see you again?" She lives in South Carolina. I lived in New Jersey. We have grown accustomed to not seeing each other regularly, or even frequently, but we could. We knew where the other one was and if coming through the area, we knew we had a place to call "home." But now what? She can't just make the stop at our house when passing through.
This wasn't something we had thought about when we embarked on this adventure. Maybe it was a selfish oversight, but we were really just thinking that we were following our dream. I knew we were leaving people back home that are important to us. But I knew that we had scheduled trips planned with our camping friends that would be closer to New Jersey. I knew our son was still in New Jersey, so we would be back to see him, and could get together with non-camping friends then. But what about the people in your life that don't live in your home town? Where do they find you?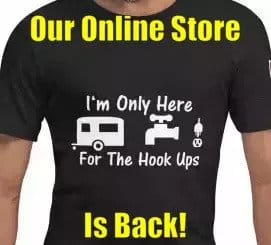 Doug's mom no longer lives in New Jersey, but a lot of her family still does. When she was making a trip to see one family member, she starts making phone calls to see who else she can visit with when she heads back to the area. No one in my family lives in New Jersey anymore, but if they are making a trip to see friends, they again would let us know so we could make the time to see them.
Thankfully, we live in an age where we have amazing technological advances. I can call anyone I want and see their face. But what about that personal touch? What about sitting down over a cocktail and having true facetime, or a hug? When will that happen again?
There are a few solutions of course. For my best friend, she can jump on a plane and come visit us in a new destination every other month if she wants. She can kind of take micro-trips with us and see wonderous places and things that she may never have done if we weren't there. But that doesn't completely solve the issue at hand.
Certainly her bank account would need for her to be able to afford the several plane tickets, and what about our friends and family that may not be able to swing for those tickets? Our son is 19. I can promise that unless we are paying for the airfare, he can't afford to just jump on a plane whenever his heart desires.
Them coming to us is a one sided solution, what about us? Although everyone has been super supportive of our "crazy" decision to live on the road, we can't honestly expect all of them to come to us all of the time. I mean, I think it would be fantastic to take a hike in the canyons of Arizona with my bestie, but we don't know when we will be there. And we don't know if she will be able to take the time from work. Beside that, living on the road was a choice Doug and I made, not one that our friends and family made.
We don't know where we will be most of the time. For the two of us, that is a big part of this journey that makes it an adventure. This trip is more about the lack of planning compared to some of our previous trips with a lot of planning. But as we travel through states where there are people that we love, we are doing our best to make the stop, see our loved ones, and include them in our adventure. Because the reality is, that I don't know when I will see everyone again.
For all of our friends and family that do plan to travel this beautiful country, I hope you reach out to us too. Maybe we will be fortunate and close enough to secure a visit away from home on the road somewhere. We are learning the importance of making the stop when we can. See as many of the people we know along our journey, and including them on our Interstate Adventures.
Before hitting the road, we lived in our RV for 6 months, take a look at how that went here.