Got To Be A Farmer, An RV Life Opportunity
Bill was showing how to replace a sickle that broke while we were harvesting
Since moving into the RV and going Full-time, we have gotten to meet some of the most incredible people. It has also given us the chance to have some awesome experiences too. The latest of these; I had the opportunity to be a farmer for a day. Ok. Maybe it wasn't a whole day. But it was for a few hours, and it was one of the most fascinating things I think I've ever done!
I'm aware that I'm from the "Garden State," but that doesn't mean that I grew up on a farm. I've visited plenty of them over the years. In fact, our son and I used to pick our own fresh vegetables every week. But I've never had the ability to actually work on a farm, let alone go for a ride on a Combine during harvest!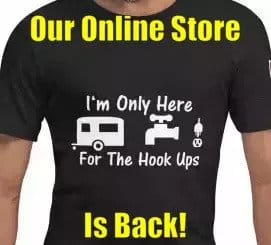 So how did this chance encounter happen? And what was it like? How much did I learn? Let's get into that.
How Did I Find Myself On A Combine
You've read our other articles and have already met Mark and Celia who quickly became our friends after Boondocking on their property while Doug repaired the Leaf Spring on the truck. We did make it all the way to Yellowstone National Park, which is where we were heading, after that catastrophe. And even continued on to Glacier NP. But then we started heading back east again. We had another group camping trip planned with a lot of friends in Hershey, PA, that we didn't want to miss.
Although stopping in to see Mark and Celia was a little off of the fast route, we knew there was no way we could drive through Illinois without stopping in to see our new friends. On our previous visit, we had been sitting around enjoying an incredible sunset together and I mentioned that I like to make up noises for farm equipment. I don't do it for everything. But if I don't know what a machine is doing – I make something up. Maybe I'm a child, but I think it makes our drives more interesting. You'll have to ask Doug for his side of that though.
Anyway! Mark said that they had a lot of friends that farm in the area. Celia goes on rides in the combine every year when the farmers are harvesting corn. She absolutely loves it! But both had told us that October was harvesting season, and that if we made it back to them, they would see what they could do.
Honestly, I didn't even think about that when we pulled back into their driveway early October. I was just thinking about seeing friends. So you can imagine my surprise when Celia told me that they already had a few calls out to get me my Combine Ride-Along!
What Was It Like To Be A Farmer?
In Short… SO COOL!!!! Haha! Mark told Doug and I to meet him at a local gas station and then follow him. We headed over to his buddy Bill's farm where they were harvesting Soy Beans. Granted, it wasn't the exciting corn that Celia had gotten so excited about. But for someone who has never even been close to a combine before, Soy Beans are exciting too!
There was so much going on. Things that I guess I've never even thought about. I got in the jump seat with Bill and Doug got in the tractor with Bill's nephew Ryan. His son Blake was operating another machine.
Everyone is working in tandem on separate equipment, doing different parts of the whole task at hand. In fairness to Bill and his family, I didn't get to actually be a farmer. I only got to ride in a Big Bad Ass machine with a farmer driving it.
But regardless of whether I was a real farmer or just pretending to be one, the experience was incredible. I brought the GoPro along and was able to video a lot of our ride. The footage is featured in our Season 2 Finale.
Mostly, I was able to interview Bill while he was working. In our short time together you can tell that he loves telling his story about farming. And even more than that, he enjoys teaching others about farming.
What Did I Learn?
Data, on data, on data. Agriculture uses so much more technology than I ever even realized. Just in the combine, we had 3 computer monitors. One showing where we'd been on the field. Another showing the moisture of the beans and yield on the field. Plus another one monitoring the hopper and how full it was. Not to mention all of the technology in the combine itself. These things can drive a straight line via satellite so the farmer can monitor everything else.
The level of science used to feed the world is nothing short of phenomenal. Every single piece of the puzzle includes some kind of scientific development. Seeds, fertilizers, and soil testing are all carefully monitored and specifically used to produce the highest yield possible.
The machines are are all fancied up with computer technology to ensure the best and most efficient harvests. I almost dare someone to find me a piece that hasn't been upgraded by science.
Bill himself is a third generation farmer. His son is now the fourth. Unfortunately, Bill lost his father a few years ago. In talking with Bill I learned that most farmers don't pass the torch to their children until they absolutely have to. At the age of 45, Bill is considered young among his peers to be at the top of the line for a family business in farming.
Know Where Your Food Comes From
When we walk into a grocery store it's easy to just walk through the produce department and grab what we need. We all know that someone is growing the food, but not many of us take the time to learn about it.
In our family, we have always gone hunting, and planted our own garden in the spring. But I didn't know what it took to produce things on a massive scale like Bill does.
When we moved into the RV, we knew that we would go a lot of new places and meet a lot of new people. Never in my wildest imagination would I have conjured up the thought of being able to go for a combine ride.
But thanks to some of those new friends it not only became a possibility, but a reality. I was only able to spend a few hours enthralled in the workings of a combine and I can tell you, I'll never take the produce department for granted again.
Don't go judging the farmer unless you've actually walked in his shoes. He isn't rich just because he owns a lot of land and big costly machines. He busts his butt every day to earn moderate pay to not just feed his family, but literally ALL OF US.
That was the biggest take away lesson when I got to "Be A Farmer." I may have to go back and work with Bill and his family over the summer and learn about the planting to go with my harvesting lesson.