Road Tripping with a Pet
Our sweet girl Lagertha just LOVES going on car rides.  So did our previous dog, Tanker.  So whenever we have considered taking a road trip, the pup is always included.  However, there are some things to consider when you will be road tripping with a pet.
First and foremost, does your pet do well in the car? It is incredibly important to make sure that you don't overlook this. The last thing you want is to leave the house for your week long adventure, make it 100 miles from home, only to discover that Fido gets car sick! If you aren't sure, now is the time to figure that out. Finish reading, and bring Fido for a drive around town. Does he just jump in and get comfy, or is he stressed? It's best to start slow with small trips and build up to something more substantial. Thankfully, there are things on the market for your 4-legged baby that can help with motion sickness or anxiety. So if bringing Fido is not up for debate, you can speak to your Veterinarian about what they recommend.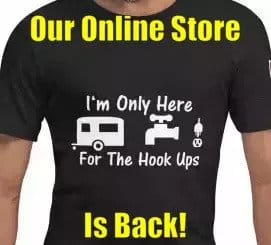 I'll be honest; having some kind of camper definitely makes traveling with a pet easier. That doesn't mean that it's impossible to take a road trip in a car if you have a pet, just that you have additional things to deliberate, like can my dog go into the Hoover Dam if we stop. Because traveling with our dog has always just been a given, and because most of our trips are done in a Suburban, we try to plan accordingly. Even though there may be a thousand stops we want to make at indoor facilities (like a museum), we compromise. Which one of us will go inside with our son, and which one of us will be hanging out with the pup in the car? If it is something that neither of us is willing to sit out, then we skip it. Lagertha's needs trump our wants. Some states have very strict laws about leaving a pet unattended in a car. We try to make our stops more outdoors to include her. By doing this, we find things off the beaten path. We do some hiking and explore abandoned towns in West Virginia, or Castle Ruins in Missouri, these things may not be on everyone's bucket list, but for us, those stops include the whole family and they are the pieces of history that are seldom remembered.
When we've traveled in an RV we were able to make several stops that we would have passed over had we been in the car. With the RV, we were able to park in the back corner of a parking lot, turn the generator on, and run the air conditioner for Lagertha. She was able to roam the camper, like she has can roam our home. We would find her curled up in our bed when we got back. It gave us a little more freedom with what we were able to see, and also provided her with more freedom than just her spot in the car. Just make sure that your RV trip still includes stops for the pup too. Just like you, they are stuck within the confines of the vehicle too, and they will need time to exercise their legs and get a good walk in.
Regardless of what kind of vehicle you travel in, you will need to make frequent stops for potty and exercise breaks.
As I said, Lagertha's needs trump our wants. If your pet doesn't do well in car, or all of the stops you want to make are indoors, maybe a Pet Sitter or Professional Boarding would fit better into your pet's needs than coming along for the ride.
Check List!
Collar with Current Tags – Make sure that your current phone number is on your pet's tag. 
Up to Date with Shots – Make sure that they are up to date on all of their shots.
Copy of their Shots Record – A lot of camp grounds and some hotels require this information at the time of check in.
Something Familiar – Blanket, toy, etc.  Bring something for your pet that provides a sense of security. A toy will also help occupy them while driving.  They can't join in the conversations, or color in a coloring book to pass the time.
Pet Friendly First Aid Kit
Medication – If your pet requires medication, even if it is something that they only take when needed, pack it. 
Their Suitcase – Make sure that you don't skip the basics…  Leash, Water & Food Bowl, their Food
Doggie Seatbelt or Crate during travel.  No one plans to be in an accident.  Just like us, your pet should be secure within the vehicle while driving.  We wear our seatbelts and so should they!  Your dog should have their own seat, this does not include your lap.
They're bed!  If your pooch usually sleeps on a blanket, or a dog bed, pack that for them.  They will be looking for it at bed time.
Poop Bags!!  You should plan to walk your pup for about 10 minutes EVERY time you stop.  You're going to need those little bags.
Traveling with a dog is not impossible, and can be a lot of fun. Dogs love new smells and places to explore. The trip can be very rewarding for them. We are so thankful that our pups have always loved road trips as much as we do. The key is pre-planning. Make the trip an adventure for them too!