Frankfurter Tamale Casserole, A New Dinner for Your Menu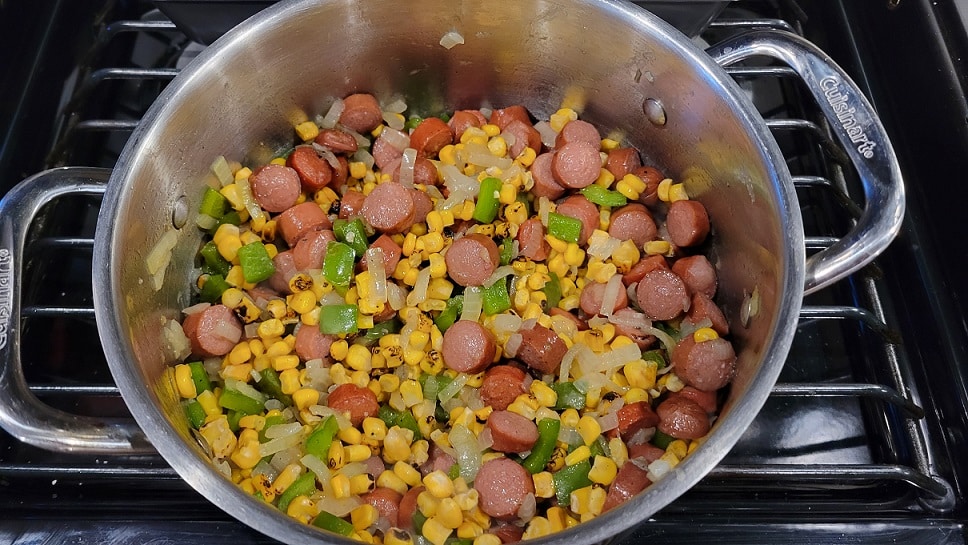 Hotdog Casserole?
You would be right if your first thought was, "What is Frankfurter Tamale Casserole? That sounds a little ridiculous." Frankfurters are German, generally meaning a hotdog. A tamale is a Spanish dish made in masa, or a corn husk. Casserole's are an American tradition that gained popularity in the 1950's. So, what the heck kind of a dinner is this?
The frankfurter is the closest thing in the title that matches the dish. We can blame my mom. She made up this dinner when I was little. Whenever mom threw together a dinner she would make up a name for it too. Who knows if that was to appease us kids, my dad, or maybe just her being creative. But, not only has this become a family favorite that spans multiple generations, every person we have ever made it for wants the recipe.
Jayden's birthday just passed. It doesn't matter who you are, if you're at my house for your birthday, I make the dinner of your choice. THIS is what Jayden wanted. I could have made him filet mignon and lobster tails. But this is what he wanted. In our house, this is like the biggest comfort food. Whether it's that he has mom and dad local right now, or he was just looking for a hug in a bowl, I'm not sure. But this is what he wanted, so this is what I made.
And now… (Mom really may kill me for this) I'm putting it out there! I am seriously about to share a family recipe. I wish I could show you some amazing photo to prepare you for the deliciousness that happens on your tongue. However, there really isn't anything pretty about this dinner. It just taste good.
Check Out Our List of the Best RV Cooking Equipment Here!
INGREDIENTS
10 hotdogs (your favorite brand) sliced into disks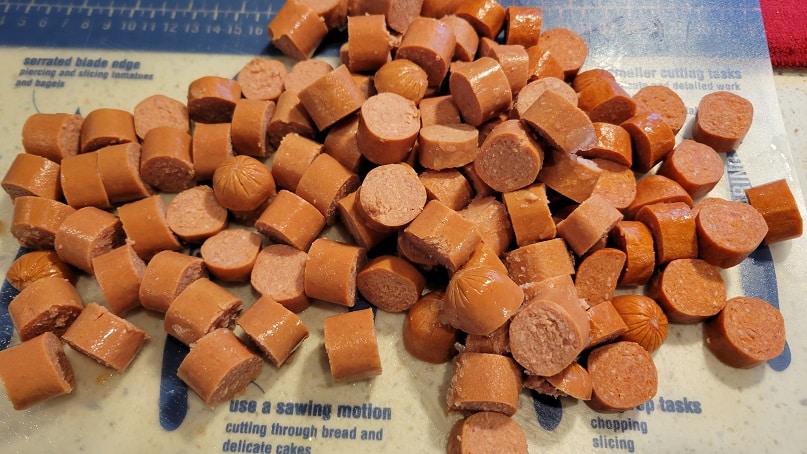 2 16 oz. cans of Vegetarian Baked Beans (again, your favorite brand)
2 sweet peppers diced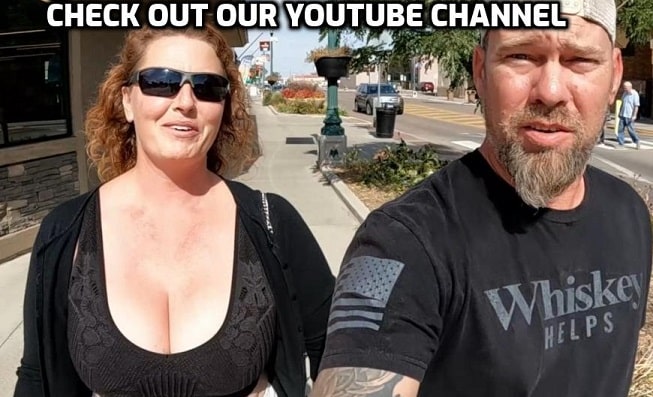 1 yellow onion diced
1 16 oz. bag of frozen corn
2 cups shredded Mexican cheese
1 box Jiffy Corn Muffin Mix prepared per directions
Chili Powder to taste. In our house, we like it with a little more of a kick. We add about 1 teaspoon of chipotle chili powder as well.
DIRECTIONS FOR FRANKFURTER TAMALE CASSEROLE
Preheat oven to 400 degrees.
Sauté peppers and onions in a large pot over medium heat until onions just start to turn translucent.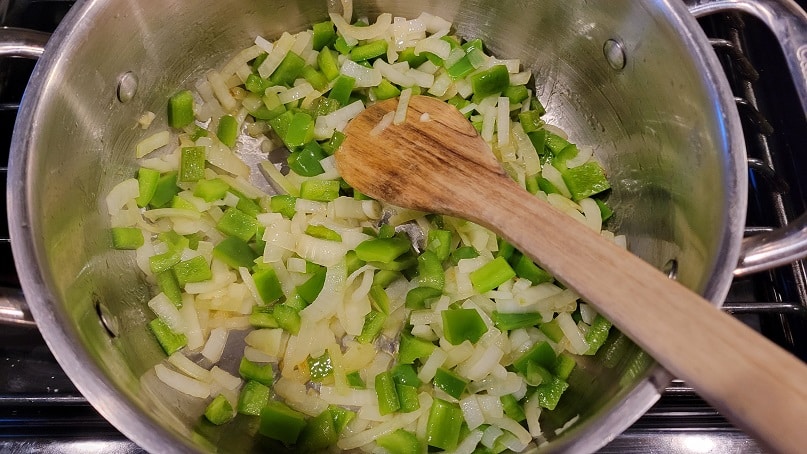 Add sliced hotdogs and mix well. Allow the hotdogs to plump a little. (about 5 minutes)
Mix in the frozen corn and baked beans. Allow this to cook together for 2 or 3 minutes.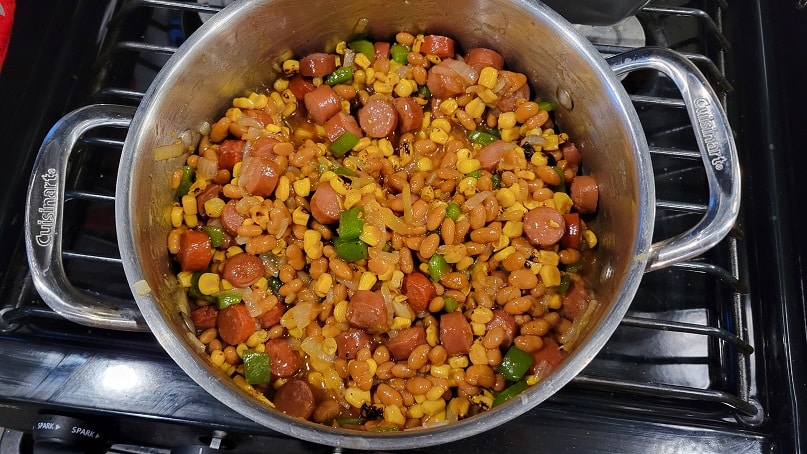 Turn the heat off on the stove.
Add the shredded cheese and mix well until the cheese is all melted.
Add the chili powder. It takes more than you may think. Be sure that after you taste it, you have something to cleanse your pallet before tasting it again. I once used a whole jar of chili powder and no one else could eat dinner because I just grew accustomed to the heat. This is also when you will add the chipotle chili powder. It should be noted, the heat will continue to increase in the oven. So, don't get carried away.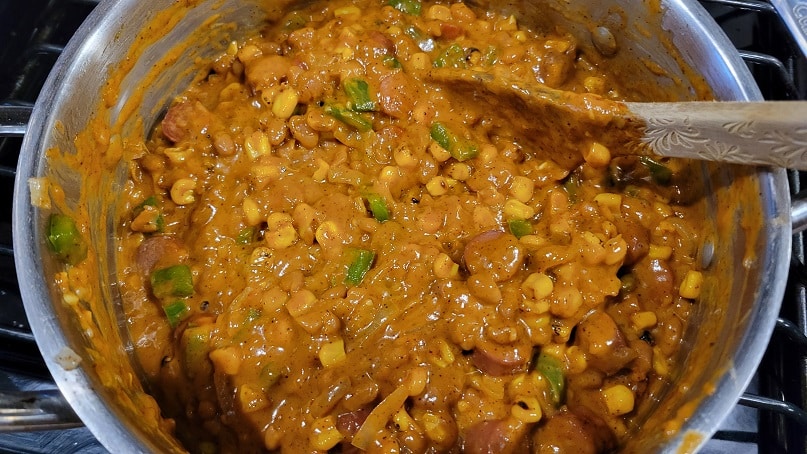 Transfer contents from the pot into a casserole dish (13×9 worked well).
Take the prepared corn muffin mix and lattice over the top of the hotdog mixture.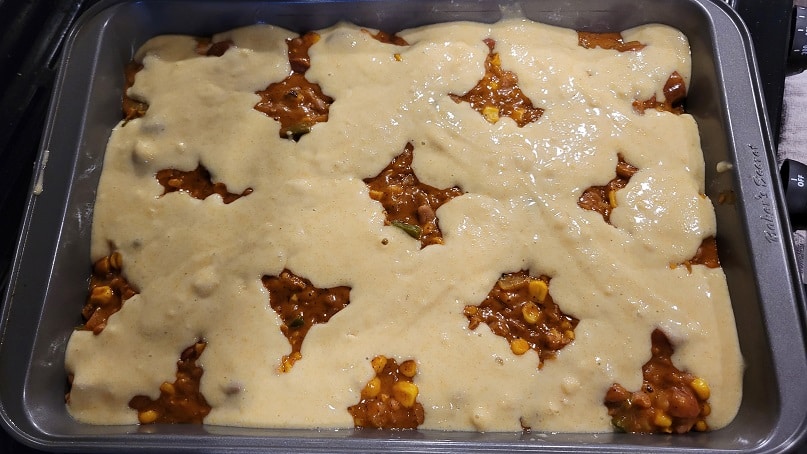 Then bake in the oven for 15 to 18 minutes until the corn bread is a light brown.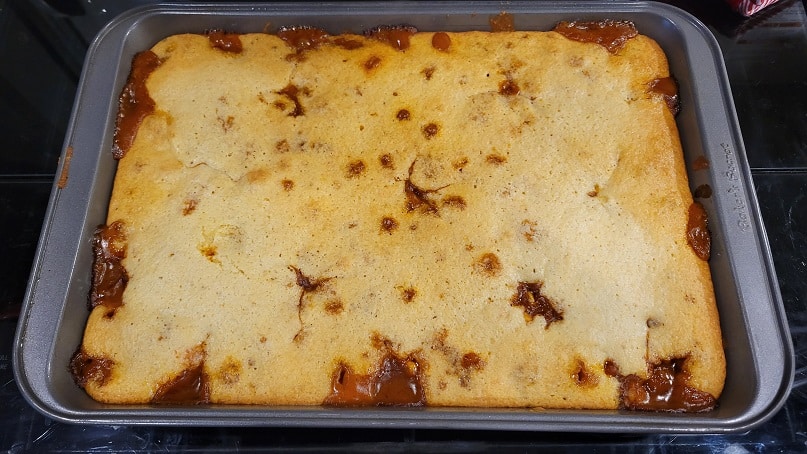 Remove the pan from the oven and allow to cool for 5 minutes.
Finally, scoop into bowls and enjoy!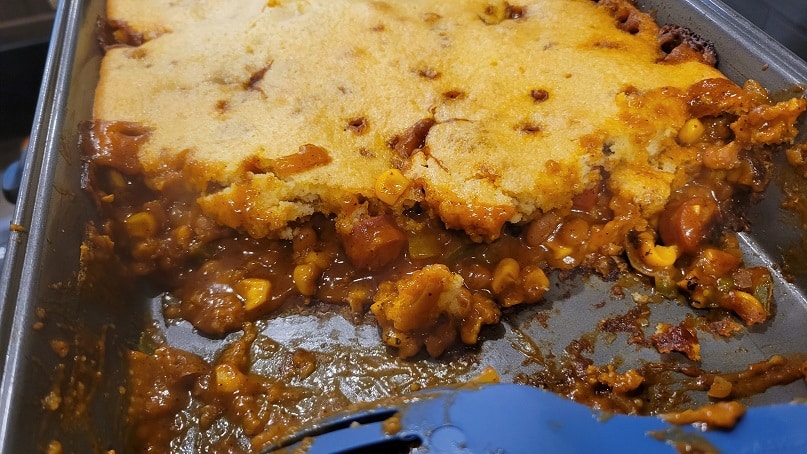 As prepared, this dish will easily feed 8 people. It's quite heavy. The three of us enjoyed more than our fair share. Plus we packed up a container for him to take home. Another one for his girlfriend to try since she wasn't able to make it for dinner. As well as a third container for Doug's lunch the next day. Don't ask me for the calorie count… In truth, I don't want to know.
I really hope you enjoy this dish and it becomes a favorite in your home as well. Drop me a comment so I can share it with mom and let her know that you've enjoyed it. Maybe that will smooth over the fact that I shared her secret family recipe.