Campground Theft – How To Help Prevent Becoming a Victim
They're NOT Taking My Stuff. Stopping Campground Theft
Campground Theft has always been an issue. It doesn't matter where you are, how up class your neighborhood is, theft is a recurring problem. Generally speaking, campers are friendly! So why do we have an increase of robberies within campground? I don't think anyone can actually answer the question of why. But we can answer how to help prevent campground theft from happening to you.
Recently we have personally seen an influx in pilfering items around campgrounds. It hasn't mattered where we've stayed either. Robberies of personal items left outside of your camper has been happening in some high end resorts. And on the flip side, we've heard it happening at small mom and pop campgrounds too.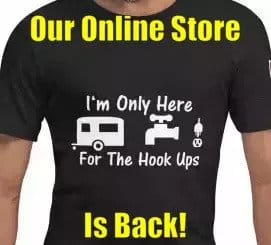 There has been quite the assortment of item's being taken from campsites. We've had different friends complaining of everything from e-bikes to Halloween decorations stolen. Both of these instances took place at an RV Resort! So what can we do to help prevent our things from being stolen?
In order to prevent yourself from falling victim to campground theft, we've compiled a list of things you can do!
K.I.S.S
Keep It Short and Simple. Often, the simplest things are the most effective. For one thing, put your stuff away. That's it. Before you go to bed each night, make sure that your site is picked up. Anything that you have laying around can disappear. So making sure to put everything away when you leave your site, or turn in for the night, will prevent it from being taken. And… lock all of your compartments, including the garage if you have one.
But what about the stuff that we want to leave out. Obviously packing everything up every single time you leave your site can be burdensome. When you're staying someplace more than a single night, there is clearly going to be things left out. What do you do with this stuff?
Campground Theft Prevention
Locks
Unfortunately, pad locks have become one of our campground must have items. They are likely moving up into a Top Ten List, but not quite yet. (We still think items to enjoy camping trump theft of your things.) But for the nature of this article, locks are certainly at the top. For one thing, you can wrap your extension cords, or light stings through the lock and secure them to the camper. Now your resident thief can't just grab them when you aren't looking. Furthermore, when used in conjunction with a chain or thick cable, you can lock up bicycles and larger items.
But not everything can be locked. And I'm sure you don't always want to have to put away everything either. We have an answer for that too.
Camera's
Just like your home, you can install security camera's on your camper. There are a multitude of options out there. And depending on your needs, you can chose what will work best. Our system is hardwired into the camper. But if you're looking for something that's easy to install with minimal tools needed, the Ring Camera system is fantastic option.
Now a camera alone is not going to necessarily prevent theft. If your robber see's it there, then it may act as a deterrent. But if the camera doesn't scare them, you could still have stuff stolen. Thankfully, with the camera you can have a photographic proof for your report with the police.
Make Friends
With the continued idea of keeping things simple, this one doesn't cost a penny. Did you know that people are more likely to stop a crime if they know the potential victim? When you get to your campsite or someone new pulls in next to you, introduce yourself. Make it a point to chat with the security guard or camp host. Just talking to people and allowing them to make connections to your property can help prevent theft.
By doing this, your neighbor will know that it isn't YOU walking around with your new camp stove outside your camper. Or the security guard will know that it isn't YOU taking the e-bike out for a ride at midnight. The art of making friends can go a long way in helping your things from being carried off without you knowing. Think of it as a Neighborhood Watch.
Campground Theft is Real
After being on the road and bouncing to different campgrounds, we have discovered that theft in the campgrounds is a real problem. Personally, I don't think it's your fellow campers that are doing the stealing either. Making a guess, I would say it's likely people coming in from surrounding neighborhoods looking for easy pickings. Being aware of your surroundings and taking simple preventative measures is all we can do to not fall victim ourselves.
If someone want's your things, they will find a way of getting them. But putting stuff away, locking up what you can, and installing a camera system should help deter the problem. Making small talk and introducing yourself to the people around you will also help strangers from meandering through your site undetected.
Do you have any other tips or tricks to help prevent campground theft from happening? Drop us a line and let us know! We'd love to get as many helpful ideas out to our readers as possible. No one wants to be violated by crime of theft.