How Do YOU Plan Your Adventures?
mapping out our road trip
I've been asked this question several times throughout the years, by quite a few people. I think a lot of people are blown away with the number of states we manage to check off our list with each trip, and must think that we just drive through a lot of them. This isn't the case at all. There is a significant amount of planning involved when we venture out. And our house rule is that you cannot check a state off until you have done something there. So how do we do it?
Below I'll tell you how we do it. I'll walk you through how we chose our broad destination, pin point a few interesting things to see. And, how we map out our best route.
(Want To Live In Your RV Full Time? Here's How)
I tend to be the one who maps out a lot of our trips. Which is actually pretty humorous, because if you asked Doug, he would tell you that I didn't know how to read a map, I've made one too many mistakes with a paper map in my hand to recover from that joke. But, thankfully, we have Google. I'm a huge fan of Google Maps, especially when mapping out a road trip.
We also have a few other websites in our reserves that we like to use. There are plenty out there, but we tend to have our "Go-To's." There is RoadTrippers.com, TripMaker.com, EZRoadTrips.com, and AltasObscura.com. My personal favorite is AtlasObscura.com. There is an app as well, I just don't find it to be as user friendly as I'd like. Plus, once we are on the road and making our adventure happen, we like to put the phone's down. Enjoy the time together, the open road, and the actual Adventure!
Ok… Now you have a few websites to check out, but what do you do with this information? What are you looking up on these varying sites? How do you make Google Maps helpful when planning? Well, as many of you know, we had a goal. We want to get Jayden to the 48 continental states before he graduated high school. So we knew what states we had been to, what states we needed to get to, and then we would work from there.
(Check out our article on renting an RV for vacation!)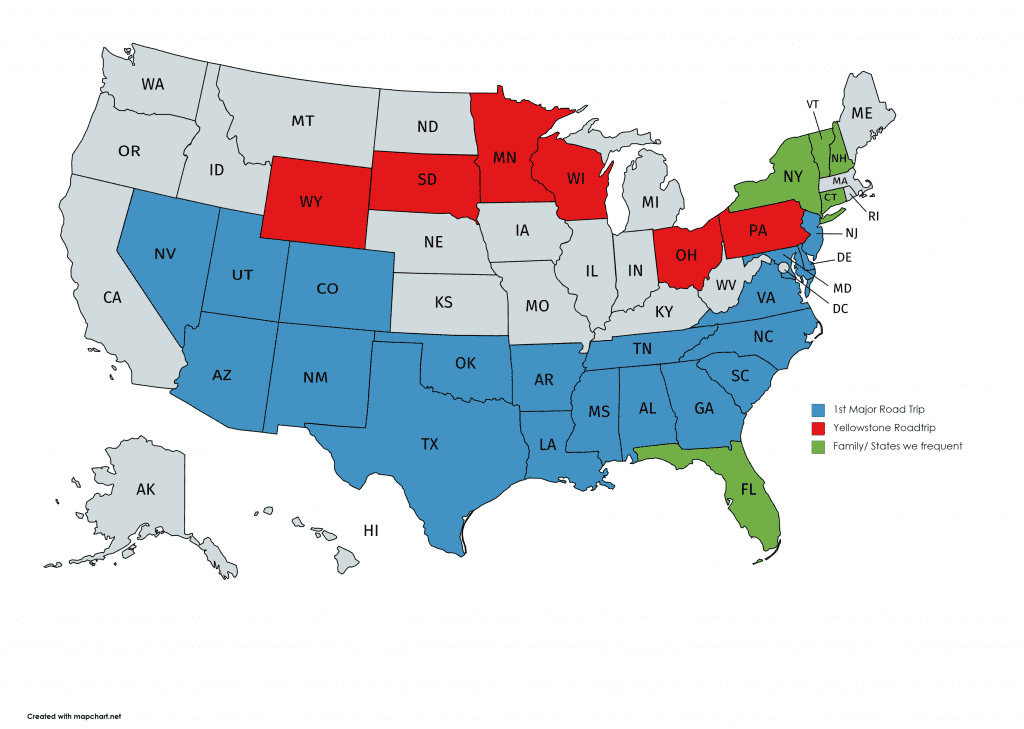 Early on, I actually printed out a U.S. map showing all of the states so I could color in where we had been. It made it easier to visualize what we still need to do, and which states we could bulk together in each trip.
Once you've selected a state, or maybe a few… Plug the state into your road trip planning website. As I said, my favorite is AltasObscura.com. I like this one because it has weird stuff listed. I don't necessarily mean weird as in mummified spiders (although it has that too), I mean, off the beaten path. Places and things that once made Road Side America a thing. These are the things that make OUR road trip memorable. That will be different for everyone! Our trip through the same states as you will likely be two completely different adventures. On AtlasObscura.com, right on the home page there is a search bar asking for your destination. Type in the country, or state, or city you are looking for. A whole list comes up! I just put in Kansas… Why Kansas? Because I cannot even tell you how many times we have been asked what could there possibly be to do and see in Kansas? Well, per AtlasObsura, there are 71 Cool, Hidden, and Unusual Things to Do in Kansas. Now scroll through them! Pick a few that you and your family find interesting. Write down the physical address, because you have officially started working on your road trip map. Right now, nothing needs to be in any particular order. We'll get to that in a minute.
(Kids Driving You Nuts At Home? Tips On How To Have Them Help Plan Your Next Adventure)
Kansas is a pretty big state. Will you also be traveling through other states when you visit? If so, go ahead, type that state into your search tool and find some things in your other states.
You've made it through the basics. You have determined where you will be traveling, and now you have a broad list of places to check out. Onto Google Maps… Be prepared, you are about to spend some time in front of that computer.
I start by typing in the city of the very first place on my list. For my Kansas list, I have Oakley, Atchison, Hutchinson, Topeka, Greenburg, and Cawker City. Each of these places has at least one thing that has peaked our interest. So Oakley Kansas has been typed into Google Maps. Find the little blue button that says directions, hit that, and type in the second city on your list, Atchison Kansas. Don't worry about what direction you will be coming from or how far the distance is between those 2 places just yet. In the top left side under your two cities, there is a + sign which says "Add Destination", hit that add your third city. Now just keep doing that until you have entered all of your cities.
(What Are Some Of The Destinations You Are Heading To? Look To See If We Have Been There For Some Tips!)
I've got all six of my cities in there and now have a lovely map of the state of Kansas with a bunch of circles and roads that I need to go back and forth on. But take a closer look at your map now. We now know where each of these cities is located. What direction will you be entering from? For us, we would likely enter Kansas from the north east because we are currently based out of New Jersey. So in my list, Atchison is the furthest east city and likely where our Kansas trip will begin. How will you be exiting the state? Will you be headed out the same way you came in, or will you be moving on to another state? We plan on hitting Nebraska next. So when I move my destinations around on the map I'm kind of going to want to end on the northwestern side of the state. If you will be leaving Kansas the same way you came in, you will want a circular direction on your map. Grab the little dot to the left of each city and drag them into the order you want!
(Planning a road trip with a dog)
You have a Planned Route! You now know how to maximize your road time and still get to see all of places you want to get to. In the bottom left of the Google Map, go ahead and open the route once you have everything in an order you like. You can see how long it will take you to travel between stops. I seriously lucked out with my Kansas list. By changing my order to Atchison, Topeka, Hutchinson, Greenburg, Oakley, and finishing up in Cawker City, none of my road time exceeds 3 hours between stops. If yours does, that's OK!! It's a reason to stop! Maybe find something else to do, make it your lunch break, or stop there for the night before moving on to your next location in the morning.
Don't plan on accomplishing all of your stops in one day. Sometimes we make reservations in advance whether it is at a campground with the RV or a hotel. We usually just wing it… It depends on the time of year you are traveling, how long you plan (or end up spending) at each of your stops, how long you really want to be driving each day, your budget, and comfort level. If you prefer to always stay at a Marriot because you have points there, you will need to take that into consideration when mapping everything out.
Short Version…
1. Pick your Destination – city or state
2. Plug your Destination into your favorite Road Trip Website
3. Collect addresses of your Points of Interest
4. Enter each of your addresses into Google Maps
5. Move your Points into a logical route for your trip!
(Do I Need An RV To Road Trip? Hell No!)
It doesn't matter if you are planning a weekend road trip or a two week adventure, this same method will still work. Choosing our stops seems to take the most amount of time. We each pick a few and try to get as many of each of our interests into the trip as we can. At times we have eliminated stops before we've even left the house because we can see that it would be too far out of the way. During other trips, we've eliminated a stop because we decided to spend more time at something else. If you are just heading into the city for the day, you can map out your day using the same basics. Having a quick mapped out idea of what order to do things prevents running back and forth through the same area and helps you check off all of the things you want to see!
How do you plan your Road Trip? What sites do you use? We'd love to hear how you do things!
Side Note – I feel the need to apologize to our friends in Kansas. Too often Kansas is overlooked as a "Fly Over State" with cows grazing and wheat growing and concluded as being "boring." But for all of our readers, Doug and I will both agree on two things; first – There is No Such Thing as a Fly Over State. Second – If you've never seen the sun rise over the fields in Kansas, if you go for nothing else, you should go to see that.