Done Doesn't Mean Finished – We'll Be Back
Day Dreaming of Adventures
Right now, the entire world is stuck in quarantine.  Our lives are filled with uncertainty.  We aren't sure when we will have the ability to go on a road trip or vacation.  We don't even know when we'll be able to see family and friends that don't reside with us.  So, like many others, at the moment ALL I can think about is running away. Done doesn't mean finished. Just because we've checked a state off, doesn't mean we won't go back.
Doug and I find ourselves watching a ton more television than normal.  We are watching things we never would have watched before.  We now find ourselves stopping on new shows because we've seen everything that we usually watch.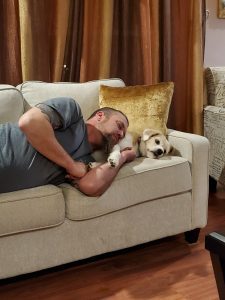 Some of the shows we have started watching at random have really made us think about our trips.  Doug is the one who pointed it out after we were watching "Ride with Norman Reedus" and I asked a question.  In this episode he was in Kentucky with Clifton Collins Jr.  They started in Louisville, went through Lexington and finished up in Red River Gorge.  My question to Doug, "We didn't go to Louisville when we were in Kentucky, did we?"  The answer was "No," we had not been to Louisville, or Lexington, or even the Red River Gorge.  All looked like places we would have enjoyed visiting, but we didn't stop at any of them.
When we were in Kentucky we went to the original Kentucky Fried Chicken.  Ok, so it wasn't exactly the fantastic eclectic little dives that Norman seems to find, but it was pretty cool.  They do still serve food so we planned it as our dinner stop for the day.  But attached to the restaurant is a museum of all things KFC.  They had a model of the original layout including the gas station, hotel, and yes… restaurant.  The history of the notorious food chain is a little dark and is quite a comeback story.
We did make our Kentucky stop more exciting than KFC by stopping in Loretto, home of Maker's Mark bourbon.  If you have never been, we highly recommend it!  Unlike other distilleries we have been to, Jayden was able to come on the tour with us.  We didn't have to choose a different tour option because we had a child with us.  This was fantastic because he had just as much fun learning their process as we did while we walked the grounds through numerous buildings.  Doug and I did the testing at the end, but obviously, Jayden had to sit out for that.  The grounds of the plant are undeniably stunning.  I almost wanted to renew our vows just to have a reason to try and host it there.  Like I said, highly recommended.
Another show we have caught ourselves watching, "Diners, Drive-In's, and Dives" with Guy Fieri.  Now, I'll admit, watching this show is not new for the two of us.  We have seen plenty of episodes.  In fact, I've gotten out of bed to make bacon cupcakes because we were watching it while lying in bed one night.  But it isn't a show we turn to unless there isn't much else on, solely because then Doug starts drooling over something we've seen, I declare that we have all of the ingredients and start cooking.  I don't know if you've ever watched Triple D, but not many of the things he eats are healthy by the standards of any diet.  For us, watching too much Triple D, quickly leads to expanded waist lines.  This time when we watched the show, I was concentrating more on WHERE he was instead of what he was eating.  I guess I really just can't stop thinking about that next road trip!
But Norman, Guy, and Doug got me thinking – I know we've already checked Kentucky off of our map, but just like every other state, there is always something more to see!  I'm sure if all of us sat there and just thought about the state we currently live in, there will be countless things that we haven't done, or seen there.  I know Guy has been to New Jersey.  Do you know how many of the restaurants on his check list we've been to here in our very own state?  NONE!  We have never been to any of Guy's NJ stops.  New Jersey isn't a very big state and we live dead smack in the middle.  It isn't like we live in Texas, we live in New Jersey.  We've gone to NYC for pizza, so why exactly haven't we gone to Wildwood for hot dogs?!  I don't know… I just don't have a great answer.  But you know that it now has my mind racing about our next road trip.
That old saying, "Do not look too far for you will see nothing" really came blaring to mind.  I think sometimes we forget to take a look at what is right in front of us.  I kept daydreaming about getting lost on some adventure in a state I found more exotic than my own, but the truth is, the minute the quarantine is lifted here, I think we are going to Wildwood for hotdogs!  Maybe head down into Cape May and do a ghost tour.  On the way home, we are going to stop in Margate to see Lucy the Elephant. 
Taking a quick road trip can be easy.  Take a look on the Triple D website https://www.dinersdriveinsdiveslocations.com/ find your state and get in the car!  I'm sure you could have a lot of fun checking all of the same places off that he has.  Or take a page out of Norman's book, and go explore a town that you haven't been to or spent much time in.  Find your own little dive to walk into.  You never know, you may find your new favorite place.  Just because you've been somewhere, doesn't mean that you've seen all of it. 
When our country starts to open back up and people are able to start moving around again, it is going to be slow and may take a little while for wallets to recover.  But that doesn't mean that we have to put a little escapism on hold waiting for that to happen.  Stay closer to home and find the little nooks and crannies that make the people of your home state special.  Go out to someplace local and new to you for lunch.  Help your local small businesses get their feet back on the ground and running again.  You don't have to spend a fortune to enjoy not being stuck at home anymore.  Life is an adventure, go make yours!
Do any of you have a favorite local "Find" that you want to share?  Help some of our readers know what they should check out near your home, and maybe we'll add one of your choices to our next road trip!